It's time to make your move.
Get on the Path

to the Happiest, Most Fulfilling Years of Your Life.
Join me and Rachel Duval for the ILLUMINATE LIVE Course and ensure the next 10 years are the most career defining, smile inducing, extraordinary years you've ever experienced… period.
What is the ILLUMINATE Course About?
ILLUMINATE is the ultimate 5 day "Life Architecting" program for visionaries and greatness-seekers who refuse to leave their success up to chance, well-wishes, or crossed fingers.
This

 program will help you:
Construct a clear and compelling vision
for the next bold chapters of your life. 
Discover your great gifts and strengths
and use them to make your mark on the world.
Build a detailed action plan,
using evidence-based strategies to ensure you reach the top.
Remove any internal doubts or fears that may be holding you back
and finally see progress towards the life and career you deserve.
Get the accountability and support you need to turn a major corner,
in an environment of visionaries and greatness-seekers just like you.
and much more!
…except for snacks, you're on your own for those.  😉 
That thing you want? You can have it…and so much more!
This is the percentage of people living the world today that are unfulfilled and unexcited by the work they do... Yep, it's one of the BIG reasons we created this course.
No shock to you, this is the percentage of New Year's goals that end up back on the shelf a week later... BUT good news, those who design their future in a supportive environment make it to the top. That's where Illuminate comes in.
Small number yes, but carries the biggest impact. It comes from the "Top 5 Regrets of the Dying." Here's one that hit me hard: "I wish I'd had the courage to live a life true to myself... not the life others expected of me." We will inspire that courage in you.
ILLUMINATE is a goal achievement program unlike anything else out there. ⛰
Takes You on a Bold Adventure
Nope. We're not into those bland  "just download our PDF" goal programs. You deserve more than that.
ILLUMINATE is life leadership: A hope instilling, courage inspiring, character building journey we travel together.
Get ready to embark on a bold new adventure, and witness yourself become the hero in your story.  
Led by Experienced Educators
The internet is FULL of smart people (at least we hope so), but you and I both know that being an expert do-er does not mean you have a clue on how to teach it. That's where we roll in like bosses. We're not only trained public speakers, but trained course designers and teachers too. Bam!
We Have Values and We're Not Afraid to Use Them
Here's a wild idea: We believe you're on this rock for a reason, and the great impact of your story and legacy is in 1) finding your purpose, and 2) bringing it to life in such a way, that the world is better because you were here.
Read that again.
Built on the Science of Success
Everything we teach comes from the success psychology playbook, as well as proven methods and mindsets from top performers around the world.
…Oh, and lots of coffee.
Interested? Keep Scrolling.
Everything You Need to Build Your Ideal Future
Your 5 Day Haul Includes…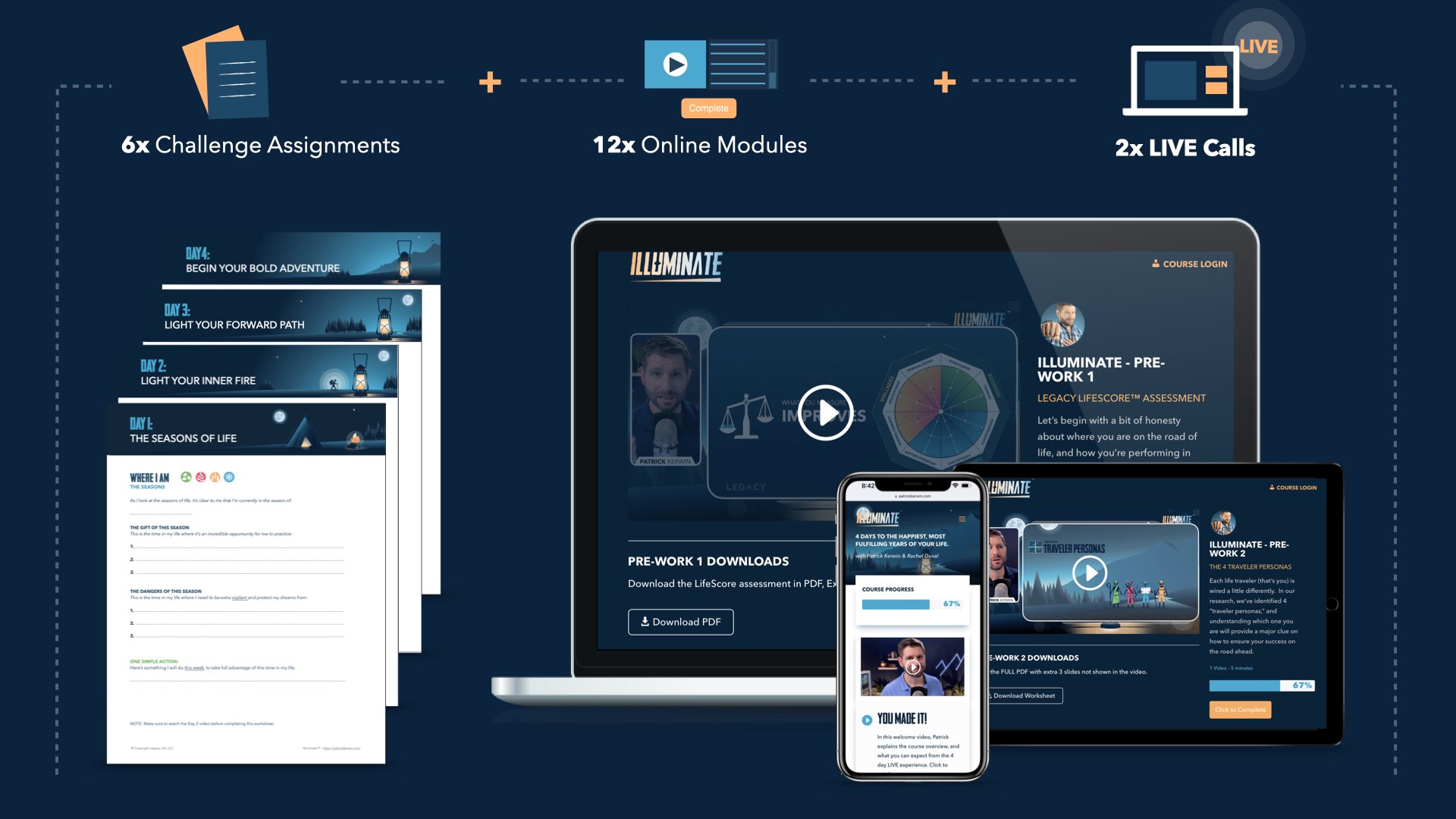 Allow me to translate:
10 hours of Personal Development  (heck, 10 hours of anything, including dance lessons) would be thousands of dollars.
Plus 4 hours of LIVE instruction and inspiration. 
AND the best part…
You get to learn and grow with us and a fantastic group of like-minded, amazing humans that might become your friends for life!
Get all of this life-architecting, path carving goodness, and more, with our ILLUMINATE LIVE Course at a fraction of the cost of 1:1 Coaching.
Get it all for $425  $45.00 Launch Pricing
Just hit that beautiful sunrise-inspired, orange-y button below and I'll see you on the other side.
Who is ILLUMINATE Right For?
Visionaries and Greatness-Seekers
who refuse to settle for anything less than their happiest and most fulfilling life.
Path Carvers and Leaders
who are ready to take risks, try something new, and begin a bold adventure towards a new horizon.
Dream Chasers
who thrive in a group environment where they can get the support, accountability, and inspiration they need to bring their ideal future to life. 
Courageous Life Travelers
who are willing to face themselves in the mirror – discovering not only their amazing strengths, but also the areas of their life that need the most improvement. 
So how does this 5 day program work? 
Online Course + LIVE Calls
Day 1: ILLUMINATE Launch Party
LIVE Video Call: New dates coming soon
FOCUS: Program Kickoff, meet-n-greet, navigating the seasons of life, establishing philosophical agreements, then setting your sights on a bold new adventure.
Day 2: Start Where You Are
Online Lessons + Discussion Board + Challenge Assignment
FOCUS: Discovering your unique gifts and strengths, reconnecting to your purpose, and building unshakable certainty in the forward path you desire.
Day 3: Find Your Inner Fire
Online Lessons + Discussion Board + Challenge Assignment
FOCUS: Casting a vision for your next year, gracefully navigating the unknown, then fine-tuning your environments for your best focus and creativity (even with spouse, kids, and all the rest).
Day 4: Light Your Forward Path
Online Lessons + Discussion Board + Challenge Assignment
FOCUS: Resolving procrastination, doubts, or any patterns that have slowed your progress in the past,
Day 5: ILLUMINATE Closing Ceremonies
LIVE Video Call: New Dates coming soon
FOCUS:  Build out a 30 day action plan, plus forward accountability, check-ins, and support to ensure your goals are reached.
Patrick Kerwin
LIFE & BUSINESS COACH | FOUNDER OF LEGACY LIFE, LLC.
Father, Husband, Stealer of Leftover PB&J.
Patrick's Background: 20+ Years of Coaching & Training, Happiness and High Performance Expert, MA in Clinical Psychology. He's also a board game enthusiast and recently crossed off "design a board game" from his bucket list. (yep, all nerdy things).
Follow him on:
Rachel Duval
Leadership Coach | Internationally Acclaimed Vocalist
Mother, Wife, Shenanigans Instigator.
Rachel's Background: 15+ Years of Education and Teaching Experience, NYU Certified Coach. She's also a public speaker and recently crossed off "give a TEDx talk" from her bucket list…even during the time of the pandemic when they didn't allow audiences. 
Follow her on:
1. Money back guarantee?  Absolutely. No questions asked.
2. What if I have no clue what I want, or how to get there?  Friend, there is a reason we called this program ILLUMINATE – it's designed from the ground up to light your forward path, even thorugh the darkest fog. You belong here.
3. Sharing in a group? Affirmative. If you're not into chatting with other humans, networking, or sharing ideas, this will not be the program for you.
4. Homework? Oh, so so much. Kidding, but yes there will be challenge assignments given in between sessions. This is how we keep your feet to the fire and ensure you grow.
5. Life Coaching… is that like therapy? Yes in that it involves you talking about yourself, being vulnerable, and having a willingness to be as truthful as possible. No in that it's not a fixation on the past, but instead a strategic focus on the future. We call this process "life architecting." It's equivalent to the effort required to plan an important vacation: where you pick a desired target, consider things like inclement weather that may foil your plans, and find creative solutions to problems. Except, ya know, when the subject is your actual life, the process becomes a bit more impassioned (and fun, way more fun).